So first of all, what is Vetiver essential oil?
Vetiver essential oil is extracted from the root of the vetiver plant, which is native to South Asia. It is known for its deep, earthy aroma and is often used in perfumes and fragrances. Vetiver oil is also believed to have a number of therapeutic properties and is used in aromatherapy for its calming and grounding effects. It helps reduce anxiety and stress, improves sleep, and boosts confidence.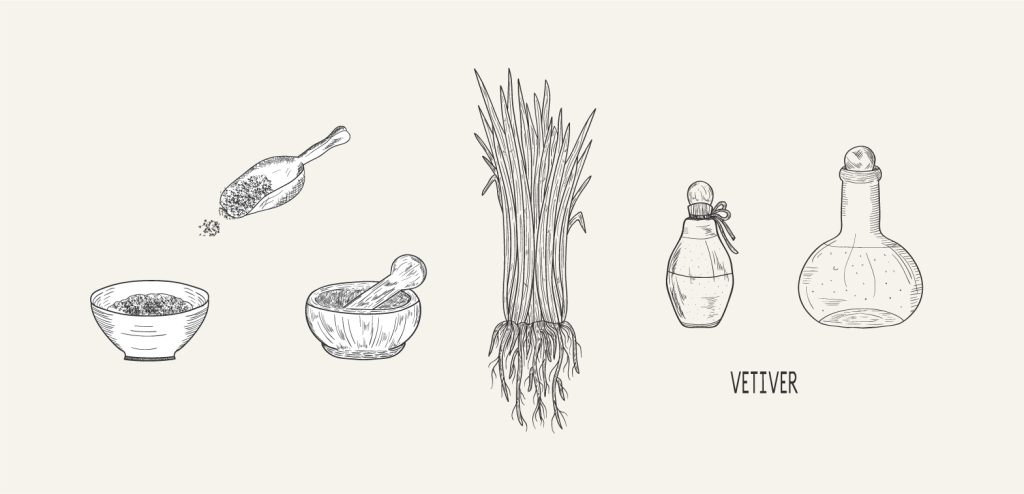 So if you are interested in the production of Vetiver essential oil the best way to do that is through steam distillation. You will need:
Raw material. This can be Vetiver Roots or any other plant. Note that on this equipment you are able to distill not only Vetiver but also other plant raw materials also.
Distillation Equipment. The type and size of this equipment depends on how much raw material you need to process. We can offer you from 50 liters up to 4 metric tons capacity machinery.
The source of energy depends on the type of your equipment. For small-batch laboratory equipment, we use electrical heaters. For small and middle-scale equipment we can offer wood log, diesel, and natural gas using machinery versions.
Note that vetiver raw material has a 1% of essential oil in it. So if you have 500 kg of raw material you will get approximately 5 kg of vetiver essential oil. One of the critical points in such a distillation process is the condensation part. If you do not properly cool steam or your equipment is not good. You will lose some essential oil with steam because there will no enough low temperature for steam to cool down. In the end, your overall percentage may be less than 1% in that particular process.
3500 Lt. Aromatic Plant Distillation Unit
Technical specification of aromatic plant capacity system distillation unit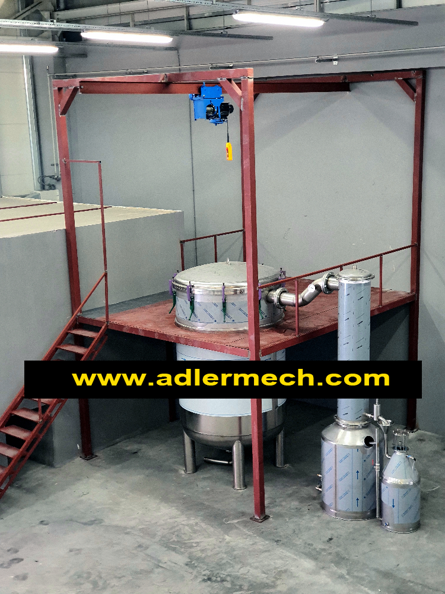 1. Distillation Boiler:
*3500lt. volume, 500 kg aromatic plant capacity,
*All made of 2,5mm thick stainless steel
*Heated by steam
*Full opening lid with hinge and 11 practical lid latches
*Steam pipe and temperature gauge
*Stainless steel flue system with sufficient length
*Discharge valve for draining the water inside the boiler
*Boiler water level indicator glass pipe
*┴ type aromatic herb basket made of stainless steel for aromatic herbs in the boiler
2. Cooling and condenser unit:
*All made of 2 mm thick stainless steel
*The cooler section is tubular, and the condensation section is serpentine.
*Cold water inlet and hot water outlet DN40 connection and valve
*500lt aromatic water tank under the unit
*Level indicator on the tank
*220v 0.75kw water pump to drain the water in the tank
*Funnel and temperature indicator for aromatic water output
3. Separation (Florentine) Container:
*All made of 2 mm thick stainless steel,
*150 X 200 mm borosilicate glass dome compressed between flanges.
*100 lt. voluminous aromatic water tank
*Oil separation with glass silicate dome
*Valve for taking oil and draining water at the bottom
*Overflow mechanism to transfer the aromatic water inside to the tank.
4. Metal platform and crane:
*3,5 mt x 4 mt metal platform around the distillation unit
*Metal stairs and railings for exit to the platform.
*Four-way crane for transporting the distillation unit basket, mounted on the platform
5. Client is responsible:
*5mtX5mt flat concrete floor
*DN25 connection for cold water and waste hot water connection for cooling and steam connection
*Electrical connections for crane, water pump, and ventilation fan.

After you have settled all the necessary equipment. You are able continuously to produce any kind of distillation essential oils.